Yes, it is true, our kids are here to learn and perfect their game of football. To us, it does not end there. We try to look beyond football. The landscape of football is like a pyramid. Below, very many want to play football with the aim of becoming a professional at the top. The way to the top is not easy. It depends on many factors some of which we or the kids cannot control. At the NFÌ, we make this known to the kids and encourage them to take their education seriously. With our initiator, being a software engineer, he is seting the tone by puting in place the environment for our kids to have ICT training. We started this two years ago. It has seen an interruption, but we are working on restarting again.
We thank foreign institutions like the African Impulse e.V. in Germany, Julius Baer Bank in Switzerland and ACGI Software in the USA for supporting us in this engagement by providing some laptops. Our staff and some of our kids have been able for the first time to own a laptop.
In the year 2021, 35 used Laptops were donated to the Nkamanyi Football Initiative (NFI) by the ACGI Software company in the United States of America. The donated laptops were given through Maggi Njoubisi, wife of NFI Supervisory board member, Eric Njoubisi Nkamanyi. Dan Kaspro, a colleague of Maggi in ACGI Software facilitated the process to get the donations. Read more about this action here.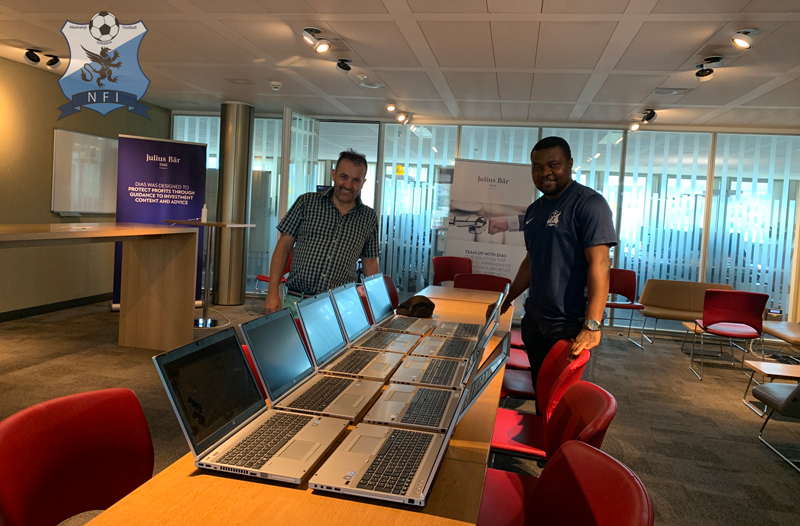 Already in 2020, the Nkamanyi Football Initiative (NFI), represented by its founder and supervisory board president, Clement Nkamanyi received 10 used HP core i7 laptops from Julius Baer Bank in Switzerland. The donation was made in the presence of Gianni Zanetti, Clement's consultant colleague at the bank. Gianni facilitated the connection to have the donation. Read more about this action here.