(Day 8) report - NFI Sky Boys - NEMFA Nguti
Status :
Ended

| Result :

2 - 0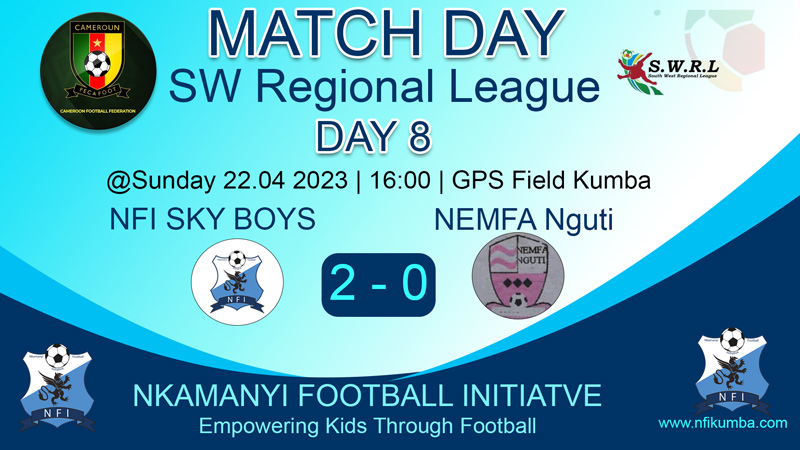 The second round of the South West Regional League starts again with the NFI Sky Boys taking on NEMFA Nguti. The NFI finished the first round unbeaten with 13 points (3 wins and 4 draws), 2 points behind league leaders City Council FC.
The strategy now is to take every game as a final.
---
Match statistics
17:55 : End of Martch
17:52 : Alain Menge out and Arrey Kelven Inn
17:43 : Another goal by Okia Clovis
17:08 : Asang collins,Rones Hinton and Tita Stephone Inn and Bweh Hanson,Ndip Killian and Ayuk Ebai out.
17:05 : Secound half start
16:51 : Half time for both sides
16:29 : Another opportunity missed by Okia Clovis
16:22 : Goal by Okia Clovis
16:03 : Start of match NFI vs NEMFA Nguti
14:09 : Arrival of NFI Boys at GPS Kumba field.
12:40 : NFI Boys at camping ground in preparation for their match Today.
---
To qualify for the mini interpools and eventually the national interpools, the NFI Sky Boys would have to occupy at least the second position in a league which pits them against the following competitors - Kumba City FC, Kumba Lakers FC, Furture Dream FC, NEMFA Nguti, Legend FC and Bright Star FC.
---
The line up for the game
Starting 11
Goalkeeper
Defenders
Midfielders
Attackers
Trainers
Medical Team
Dr. Ikoe Lord Itoe
Ebika Henry
Support Stafff
Roy Nkabyo (Live updates)
---
Some pictures of the game